ARCHIVES
5 Soldiers Killed, Hardly A Word Mentioned
Looking at the images of these young faces brings an indescribable grief that begs denial but no, it's real and they are gone.
When I realize the overwhelming heartbreak and sadness caused by wars that in too many cases, have been authorized out of greed and passion for game (especially the Iraq war waged by Cheney/Bush administration --we all know Cheney was the one in charge-- a war that had been a dream of the neoconservatives long before that dreadful day occurred), I feel the regret that a persistant open-minded inquiry of WHY was not of uppermost concern to every citizen when the question of going to war with Iraq (and also, I believe, Afghanistan) had materialized with so many false assertions.
These two wars (Afghanistan and Iraq) had culminated from the shock of 9/11, which eliminated collective objectivity, an occurrence that happens after a tremendous shock (or confusion).
The picture of these five service members losing their life in a trumped up war, is more than sad, it's abominable. thinkingblue
Thanks to Jeff Parson for posting this on Facebook.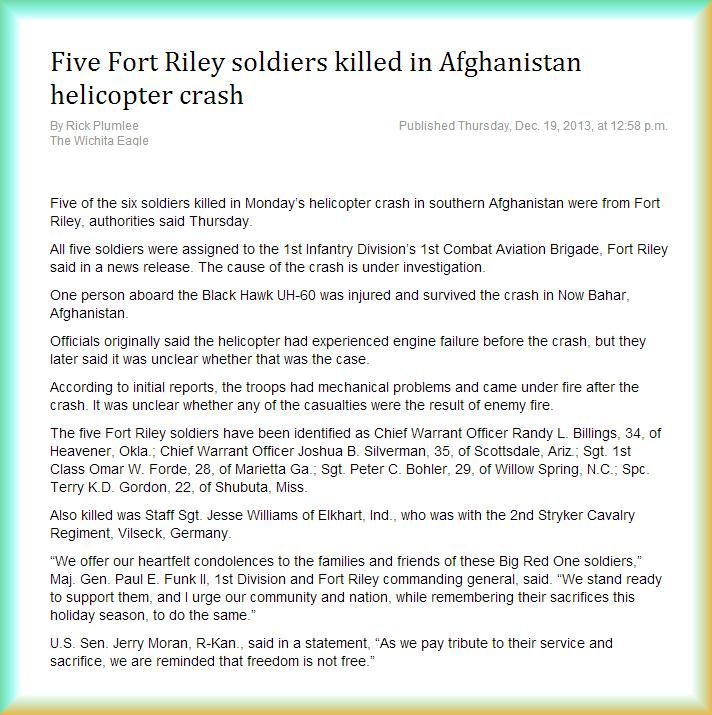 Article Link: http://www.kansas.com/2013/12/19/3187709/moran-5-soldiers-killed-in-afghanistan.html
Image From This Site: Jeff Parson's Facebook
Families Of Fallen Troops Denied Military Death Benefits Because Of Government Shutdown

Families of fallen troops are being denied military death benefits because of the government shutdown.

Over the weekend, the relatives of at least five U.S. military members received the heartbreaking news that their loved ones had died protecting their country while on duty in Afghanistan.

Within three days, the government was supposed to have fulfilled its promise to give $100,000 to these grieving families -- a "death gratuity" that is supposed to help cover funeral costs, as well as immediate living expenses until survivor benefits kick in. According to USA Today, the money is also supposed to cover family travel expenses so that they're able to meet their loved ones returning home for burial in flag-draped coffins at Dover Air Force Base in Delaware.

Unfortunately, the government has been unable to fulfill this promise because of the shutdown, leaving the families high and dry during this vulnerable time.

In a media release Tuesday, the Pentagon confirmed that it has suspended death benefits to families of fallen troops.

"The [Defense Department] does not currently have the authority to pay death gratuities for the survivors of service members killed in action," the release said, adding: "Secretary [of Defense Chuck] Hagel assured the service leaders that he would work closely with them to address these challenges, and support the service members and families impacted by these disruptions."
ARCHIVES
Look What Dropped In On Facebook Wall
Study and Remember These Faces
The GOP Afraid Of Gun Control?
Marketing's One Motivation - Sell,
Sell.The Right To Vote, A Long Hard Struggle.
Asteroid Close Encounter With Earth
Ted Nugent - A Real Piece of Work (shit)
Mayors Against Illegal Guns Bowl Ad
Common Sense Gun Laws of Japan
Violence Against Women Act Expires
Republican Hypocrisy Rides Again
Newtown Massacre of Little Children
Obama To Give The GOP A Lollipop?
GOP Acts Out The Terrible Two's .
The GOP's Hands Are Quite Busy
Strong Segregationist Strain in U.S
Lloyd Blankfein, Ebenezer Scrooge
>live without becoming an old jackass.
Read Agenda 21, Glenn Beck's novel?
Democratic Socialism Scare Ignorant People
Accomplishments of President Obama
Mitt Romney's Halloween Special
GOP Tea Party The American Taliban
Bruce Springsteen to Join Obama
Serious Reasons To Vote For Obama
$$ Mitt Romney Style $$
Hey Mitt, Can You Handle More Truth?
Mitt, A Dose Of Truth, Can You Handle It?
Scalia and His Cobweb Thinking
David Letterman: "Romney's Yellow!"
Is Romney's Brain About To Blow?
Creationism – The Study of Darkness
Romney's Success vs. Romney's Greed